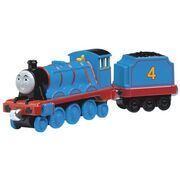 Introduced: 2002

Gordon is the Number 4 Blue Engine, he is a proud and strong engine who pulls the express.
He is missing detail on his handrail, cab, and on the back of him, and the front if his tender, and on his smoke deflectors.
He has a wring wheel configuration, his model depicts him has a 2-6-2, when he should be a 4-6-2.
Version Gallery
Edit