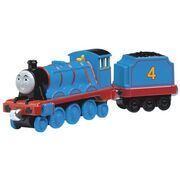 Gordon is a character who was released to Take-Along. He's the Number 4 Blue Engine and is missing detail on his handrail, cab, and on the back of him and on the front of his tender and on his smoke deflectors. He also has the wrong wheel arrangement, as he should be 4-6-2 but instead he is 2-6-2. He has magnets on both ends. He was Season 13 in CGI. 
Version Gallery
Edit
Ad blocker interference detected!
Wikia is a free-to-use site that makes money from advertising. We have a modified experience for viewers using ad blockers

Wikia is not accessible if you've made further modifications. Remove the custom ad blocker rule(s) and the page will load as expected.