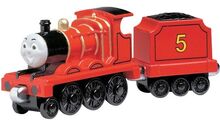 James is a bright red engine. He's the number 5 red engine. He was released in 2002.
He is lacking detail on his handrail, cab, and on the front of his tender.
There were two versions of James' standard model. One had grey wheels with a yellow #5 and the other had black wheels and a gold number. If James was in a multi-car pack or playset, it was the latter variant.